February 2nd update: Thanks to some friends, the list has been updated, reducing the number of Canadian utilities from 151 to 145.
In the United States, the Energy Information Agency maintains a handy database of electric utilities. I couldn't find anything similar for Canada. In my activities as a business consultant in the electricity sector, it's something useful and I have had many Canadian utilities as customers. So, I made my own over the years and I'm sharing it here. 
You'll be pleased to know that 145 electric utilities operate in Canada — I included the entire list at the end of this post. Some definitions here: I'm only counting distribution companies. Companies that are energy retailers, transmitters or generators without a distribution operation are omitted from this list. I found the number of customers for most of them, giving a sense of size, although I couldn't always find this information — mostly Alberta coops and some utilities in the territories. 
58% of Canadian utilities are municipally owned, and 24% more are coops.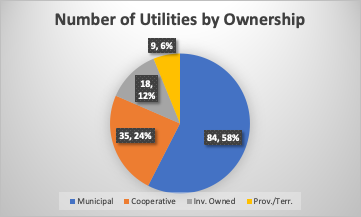 However, by customer count, 57% of Canadian customers are served by a provincial or territorial utility. As I couldn't find the customer counts of many coops, this chart underestimates this category.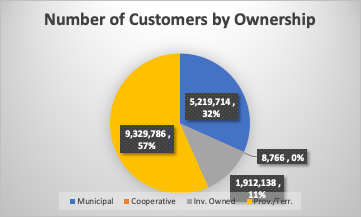 Ontario has the most utilities, followed by Alberta, British Columbia and Québec. Manitoba and Prince Edward Island are the only two provinces with a single utility.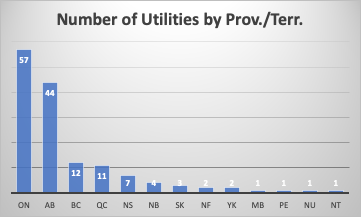 Hydro-Québec is the largest Canadian utility, with over 4.3 M customers. BC Hydro and Hydro One follow. Alectra is the largest municipal utility. The Fortis companies, if taken together, would have over 1 M customers in BC, AB, ON, PE and NL, but they're largely operating independently. The top 20 companies have 90% of the Canadian customers — the 20th one, Kitchener-Wilmot Hydro, has almost 100,000 customers.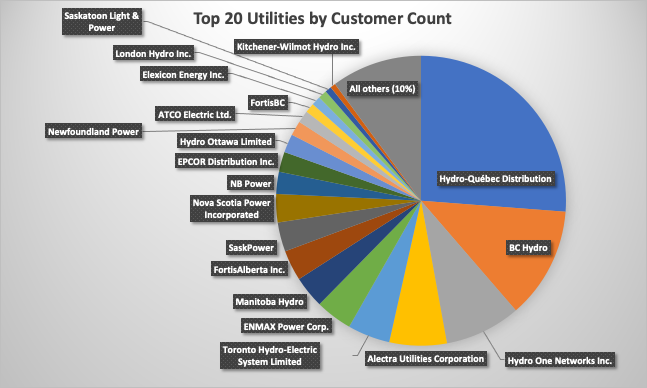 Let me know if you want to know more!
| | | | | |
| --- | --- | --- | --- | --- |
| Rank | Utility Name | Customers | Ownership | Prov./Terr. |
| 1 | Hydro-Québec Distribution | 4,316,914 | Prov./Terr. | QC |
| 2 | BC Hydro | 2,049,322 | Prov./Terr. | BC |
| 3 | Hydro One Networks Inc. | 1,395,575 | Prov./Terr. | ON |
| 4 | Alectra Utilities Corporation | 1,054,613 | Municipal | ON |
| 5 | Toronto Hydro-Electric System Limited | 777,904 | Municipal | ON |
| 6 | ENMAX Power Corp. | 674,800 | Municipal | AB |
| 7 | Manitoba Hydro | 586,795 | Prov./Terr. | MB |
| 8 | FortisAlberta Inc. | 563,000 | Inv. Owned | AB |
| 9 | SaskPower | 537,714 | Prov./Terr. | SK |
| 10 | Nova Scotia Power Incorporated | 520,000 | Inv. Owned | NS |
| 11 | NB Power | 405,466 | Prov./Terr. | NB |
| 12 | EPCOR Distribution Inc. | 369,000 | Municipal | AB |
| 13 | Hydro Ottawa Limited | 339,771 | Municipal | ON |
| 14 | Newfoundland Power | 269,000 | Inv. Owned | NF |
| 15 | ATCO Electric Ltd. | 227,000 | Inv. Owned | AB |
| 16 | FortisBC | 175,900 | Inv. Owned | BC |
| 17 | Elexicon Energy Inc. | 167,653 | Municipal | ON |
| 18 | London Hydro Inc. | 160,598 | Municipal | ON |
| 19 | Saskatoon Light & Power | 117,200 | Municipal | SK |
| 20 | Kitchener-Wilmot Hydro Inc. | 97,695 | Municipal | ON |
| 21 | ENWIN Utilities Ltd. | 89,561 | Municipal | ON |
| 22 | Hydro-Sherbrooke | 82,697 | Municipal | QC |
| 23 | Maritime Power | 80600 | Inv. Owned | PE |
| 24 | Oakville Hydro Electricity Distribution Inc. | 73,133 | Municipal | ON |
| 25 | Burlington Hydro Inc. | 68,205 | Municipal | ON |
| 26 | Energy+ Inc. | 66,521 | Municipal | ON |
| 27 | Entegrus Powerlines Inc. | 59,810 | Municipal | ON |
| 28 | Oshawa PUC Networks Inc. | 59,183 | Municipal | ON |
| 29 | Waterloo North Hydro Inc. | 57,855 | Municipal | ON |
| 30 | Synergy North Corporation | 56,700 | Municipal | ON |
| 31 | Niagara Peninsula Energy Inc. | 56,067 | Municipal | ON |
| 32 | Greater Sudbury Hydro Inc. | 47,725 | Municipal | ON |
| 33 | Newmarket-Tay Power Distribution Ltd. | 43,931 | Municipal | ON |
| 34 | Milton Hydro Distribution Inc. | 40,388 | Municipal | ON |
| 35 | Brantford Power Inc. | 40,124 | Municipal | ON |
| 36 | Newfoundland & Labrador Hydro | 38,000 | Prov./Terr. | NF |
| 37 | Bluewater Power Distribution Corporation | 36,743 | Municipal | ON |
| 38 | Saint John Energy | 36,500 | Municipal | NB |
| 39 | PUC Distribution Inc. | 33,647 | Municipal | ON |
| 40 | City of New Westminster | 31,000 | Municipal | BC |
| 41 | Essex Powerlines Corporation | 30,393 | Municipal | ON |
| 42 | City of Medicine Hat Electric | 30,200 | Municipal | AB |
| 43 | Canadian Niagara Power Inc. | 29,455 | Inv. Owned | ON |
| 44 | Kingston Hydro Corporation | 27,778 | Municipal | ON |
| 45 | North Bay Hydro Distribution Limited | 24,199 | Municipal | ON |
| 46 | Westario Power Inc. | 23,774 | Municipal | ON |
| 47 | Welland Hydro-Electric System Corp. | 23,664 | Municipal | ON |
| 48 | ERTH Power Corporation | 23,380 | Municipal | ON |
| 49 | Halton Hills Hydro Inc. | 22,528 | Municipal | ON |
| 50 | Festival Hydro Inc. | 21,382 | Municipal | ON |
| 51 | Hydro-Jonquière | 20,289 | Municipal | QC |
| 52 | Innpower Corporation | 18,632 | Municipal | ON |
| 53 | EPCOR Electricity Distribution Ontario Inc. | 17,916 | Inv. Owned | ON |
| 54 | Swift Current Electricity Services | 16,600 | Municipal | SK |
| 55 | Wasaga Distribution Inc. | 14,003 | Municipal | ON |
| 56 | Lakeland Power Distribution Ltd. | 13,762 | Municipal | ON |
| 57 | Orangeville Hydro Limited | 12,652 | Municipal | ON |
| 58 | E.L.K. Energy Inc. | 12,478 | Inv. Owned | ON |
| 59 | Algoma Power Inc. | 11,732 | Inv. Owned | ON |
| 60 | Grimsby Power Incorporated | 11,631 | Municipal | ON |
| 61 | Ottawa River Power Corporation | 11,320 | Municipal | ON |
| 62 | Lakefront Utilities Inc. | 10,546 | Municipal | ON |
| 63 | Hydro Westmount | 10,181 | Municipal | QC |
| 64 | Hydro-Magog | 9,957 | Municipal | QC |
| 65 | Niagara-on-the-Lake Hydro Inc. | 9,558 | Municipal | ON |
| 66 | Hydro-Joliette | 8,975 | Municipal | QC |
| 67 | Centre Wellington Hydro Ltd. | 7,156 | Municipal | ON |
| 68 | Tillsonburg Hydro Inc. | 7,129 | Municipal | ON |
| 69 | Coopérative SJBR | 6,400 | Cooperative | QC |
| 70 | Northern Ontario Wires Inc. | 5,977 | Municipal | ON |
| 71 | Rideau St. Lawrence Distribution Inc. | 5,910 | Municipal | ON |
| 72 | Edmundston Energy | 5,800 | Municipal | NB |
| 73 | Hydro Hawkesbury Inc. | 5,549 | Municipal | ON |
| 74 | Ville d'Alma | 5,482 | Municipal | QC |
| 75 | Ville de Baie-Comeau | 4,928 | Municipal | QC |
| 76 | Nelson Hydro | 4,434 | Municipal | BC |
| 77 | Renfrew Hydro Inc. | 4,325 | Municipal | ON |
| 78 | Hydro-Coaticook | 3,968 | Municipal | QC |
| 79 | Wellington North Power Inc. | 3,830 | Municipal | ON |
| 80 | Fort Frances Power Corporation | 3,773 | Municipal | ON |
| 81 | Antigonish Electric Utility | 3,500 | Municipal | NS |
| 82 | Espanola Regional Hydro Distribution Corporation | 3,309 | Inv. Owned | ON |
| 83 | Ville d'Amos | 2,882 | Municipal | QC |
| 84 | Sioux Lookout Hydro Inc. | 2,848 | Municipal | ON |
| 85 | Hearst Power Distribution Company Limited | 2,700 | Municipal | ON |
| 86 | Cooperative Hydro Embrun Inc. | 2,366 | Cooperative | ON |
| 87 | Atikokan Hydro Inc. | 1,629 | Municipal | ON |
| 88 | Corix Multi Utility Services Inc. | 1,365 | Inv. Owned | BC |
| 89 | Hydro 2000 Inc. | 1,244 | Municipal | ON |
| 90 | Chapleau Public Utilities Corporation | 1,222 | Municipal | ON |
| 91 | Perth Andover Light Commission | 1,000 | Municipal | NB |
| 92 | Hemlock Utility Services Ltd. | 252 | Inv. Owned | BC |
| 93 | The Yukon Electrical Company Limited | 80 | Inv. Owned | BC |
| 94 | Kyuquot Power Ltd. | 42 | Inv. Owned | BC |
| 95 | Silversmith Light & Power Corporation | 9 | Inv. Owned | BC |
| 96 | Armena REA Ltd. | | Cooperative | AB |
| 97 | Battle River Power Coop | | Cooperative | AB |
| 98 | Beaver REA Ltd. | | Cooperative | AB |
| 99 | Blue Mountain Power | | Cooperative | AB |
| 100 | Borradaile REA Ltd. | | Cooperative | AB |
| 101 | Braes REA Ltd. | | Cooperative | AB |
| 102 | City of Lethbridge | | Municipal | AB |
| 103 | City of Red Deer Electric Light & Power | | Municipal | AB |
| 104 | Claysmore REA Ltd. | | Cooperative | AB |
| 105 | Co-op (Rocky REA Ltd) | | Cooperative | AB |
| 106 | Devonia REA Ltd. | | Cooperative | AB |
| 107 | Drayton Valley REA Ltd. | | Cooperative | AB |
| 108 | Duffield REA Ltd | | Cooperative | AB |
| 109 | EQUS REA Ltd. | | Cooperative | AB |
| 110 | Ermineskin REA Ltd. | | Cooperative | AB |
| 111 | Fenn REA Ltd. | | Cooperative | AB |
| 112 | Heart River REA Ltd. | | Cooperative | AB |
| 113 | Kneehill REA Ltd. | | Cooperative | AB |
| 114 | Lakeland REA Ltd. | | Cooperative | AB |
| 115 | Lindale REA Ltd. | | Cooperative | AB |
| 116 | MacKenzie REA Ltd. | | Cooperative | AB |
| 117 | Mayerthorpe & District REA Ltd. | | Cooperative | AB |
| 118 | Montana REA Ltd. | | Cooperative | AB |
| 119 | Municipality of Crowsnest Pass | | Municipal | AB |
| 120 | Myrnam REA Ltd. | | Cooperative | AB |
| 121 | Niton REA Ltd. | | Cooperative | AB |
| 122 | North Parkland Power REA Ltd. | | Cooperative | AB |
| 123 | Peigan Indian REA Ltd. | | Cooperative | AB |
| 124 | Sterling REA Ltd. | | Cooperative | AB |
| 125 | Stony Plain REA Ltd. | | Cooperative | AB |
| 126 | Tomahawk REA Ltd | | Cooperative | AB |
| 127 | Town of Cardston | | Municipal | AB |
| 128 | Town of Fort Macleod | | Municipal | AB |
| 129 | Town of Ponoka | | Municipal | AB |
| 130 | West Liberty REA Ltd | | Cooperative | AB |
| 131 | West Wetaskiwin REA Ltd. | | Cooperative | AB |
| 132 | Wild Rose REA Ltd. | | Cooperative | AB |
| 133 | Willingdon REA Ltd. | | Cooperative | AB |
| 134 | Zawale REA Ltd. | | Cooperative | AB |
| 135 | City of Grand Forks | | Municipal | BC |
| 136 | City of Penticton | | Municipal | BC |
| 137 | District of Summerland | | Municipal | BC |
| 138 | Berwick Electric Light Commission | | Municipal | NS |
| 139 | Canso Electric Light Commission | | Municipal | NS |
| 140 | Lunenburg Electric Utility | | Municipal | NS |
| 141 | Mahone Bay Electric Utility | | Municipal | NS |
| 142 | Riverport Electric Light Commission | | Municipal | NS |
| 143 | Northland Utilities | | Inv. Owned | NT |
| 144 | Qulliq Energy | | Prov./Terr. | NU |
| 145 | Yukon Electrical Company | | Inv. Owned | YK |
| 146 | Yukon Energy Corporation | | Prov./Terr. | YK |